Alex Demyan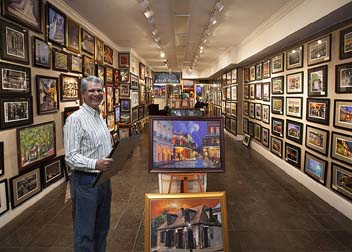 Alex Demyan, is a full-time freelance photographer specializing in digital photography of New Orleans. His career can be divided into 2 distinct chapters. During the editorial phase, Demyan had thousands of images published worldwide and was the featured photographer of local publications such as New Orleans Magazine, Where Magazine and Louisiana Life Magazine.
The focus of Alex Demyan's career as a strictly editorial photographer was changed nearly overnight by two great tectonic shifts – the digital camera and Hurricane Katrina. The decline in New Orleans tourism and conventions after Katrina collapsed the demand for both stock and editorial services. Digital photography likewise put into motion market forces that threatened the careers of many editorial photographers, but also bore the seeds of Alex Demyan's rebirth as a Fine Art Photographer.
Today Demyan produces photographs destined more for the frame and less the printed page. Software and an imagination unbounded by the strict limits of the editorial world have allowed Alex to take photography to a new dimension that is still believable and true to his roots as a traditional photographer.
Showing 1–12 of 33 results